1905 Mortlach Store / Lancer Theatre / Masonic Lodge / Doctor's Office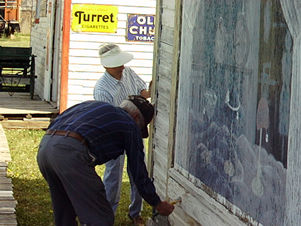 This 1905 building originated in Mortlach, and was used as a general store for many years. It was later renovated to be used as a Masonic Hall; you can see a small replica of the Masonic Lodge at the back of the building. The Masonic Lodge was originated in Scotland by the stonemasons (people who worked with stone and masonry in the building trade). The group promotes brotherhood and morality, and its main purpose is to serve others. Groups from Central Butte, Riverhurst, Mortlach and Caron banded together to make one large Masonic Lodge. When the numbers dwindled sufficiently, the members joined the Moose Jaw Lodge and the remaining furnishings were donated to the museum in 1995. You will notice the raised platforms around the whole building (used for rows of chairs for certain officers of the Lodge) and the peephole in the door at the north side of the hall. At the front of the store there is a doctor/dentist's office and a hardware, clothing among other displays.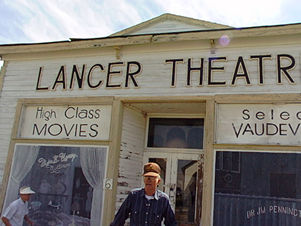 You will note, also, the large advertising roll on the top of the west wall. It was set behind the movie screen in the theatre. When the movie was finished the screen would be raised and the advertising could be seen. The building was moved to the museum in 1975.